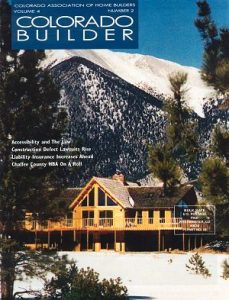 Ninety percent of their custom home clients are living out of state while their retirement or vacation home is being designed and built. Communication has become their most valuable tool in client relations employing e-mail and digital photo imaging in the visualization of their project concepts.
Cut No Slak's portfolio includes over 100 custom homes and commercial projects built in Chaffee County and the surrounding area.
Some of their most exciting, unique and challenging projects have included: the Buddhist Temple for the Crestone Mt. Zen Center in Crestone, CO, eight efficiency retreat hermitages for the Spiritual Life Institute of Crestone, restoration of the First Street Cafe (after a fire) located in one of the historical buildings in downtown Salida, various restoration and preservation projects in the historical St. Elmo Ghost Town.
Their largest project to date is the U.S. Forest Service and San Isabel National Forest Headquarters Building on Highway 50 in Salida.
ON THE COVER
A town and country log home kit built by Cut No Slak Construction on a 10 acre parcel of land in the Mesa Antero subdivision between Salida and Buena Vista in Chaffee County.